It has been over a month since my last significant change in diet, and hadn't ridden much. There was a lot of rain Saturday morning, but after working on an image conversion project and having a late lunch the weather cleared in the late afternoon.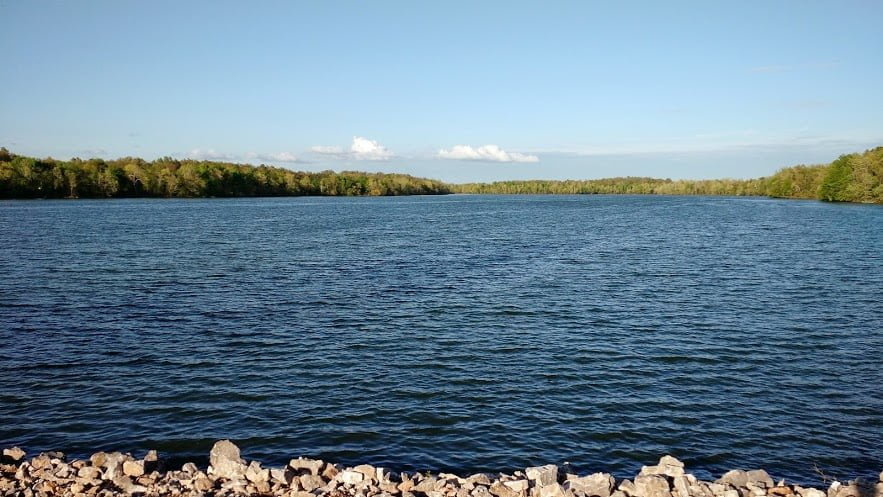 The initial part of the ride seemed normal, not much exercise and going vegan. The view of Lake Fayetteville was good enough to stop and unstrap my phone (using a new rubber mount) to take a pic.
Things got weird afterward. Couldn't figure out where the Greenway started. In hindsight I hadn't stopped long enough to study anything going on around the Lake, but eventually figured it out.
When I got on the new path, my strength level dropped dramatically. Eating salad and other organic veggies is nice, but the new path is across from a modern neighborhood. It was late in the afternoon, and smelling everyone's barbeque smoke didn't help. I was stalled at the first intersection at the top of the hill, and calling the wife for a potential pickup. It didn't take to long to recover, and make a largely no-fun trip back home. I still did 17 miles, but the only motivation was the potential next-trip.
Yesterday morning, a client project was top-of-mind, as well as checking on the benefits of last weekend's successful image conversions on the Rocket website. I still managed to get out on the trail at 9am, having complex carbs and a mix of peanut butter, grains, and raisins. Prepped the bike with my coffee, slipped on the summer gear and took off.
The entire ride was great. Went up to Lake Fayetteville, got on the Greenway, and rode up to the north-end of Springdale behind a well-known local restaurant on Sanders Ave. The trail snakes through Springdale in interesting ways, but should breathe new life into what was formerly remembered as the active part of town.
I needed to get back and prepare for potential conference calls, that never happened – but that's Ok – the ride was still wonderful nonetheless.
26.5 Miles, it was a good day.